Do you have a stain on your wooden floors you can't remove? A scratch? Creaky Boards, that ruin its beauty? It's time to consider a more professional approach to your wooden floor maintenance. Choose our floor sanding in Camberwell SE5 for an immediate and long-lasting effect. Erase the passage of time on your wooden floors with one single call. The service is suitable for every type of wood, be it hard or softwood, and every style of your floorboards or parquet.
What The Wood Floor Sanding for Camberwell SE5 Looks Like?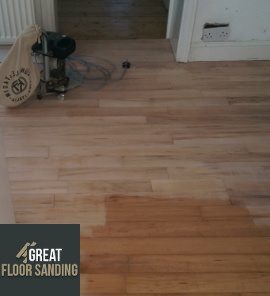 The actual procedure doesn't just strip and even out the wood. The five-star Camberwell wood floor sanding we provide demands preparation and takes several steps to be successfully carried out. You can see a short guide with all the steps listed.
Repair and Restoration:

This is preparation for the actual sanding, where damaged boards are completely replaced, loose ones are secured and nails are pinched.

Gap Filling:

We seal the gaps in the floor with organic materials.

Floor Sanding:

The sanding is efficient and takes no time to remove the years from your wood.

Staining:

This step is optional if you want your floor to have a specific colour.

Finish:

The final step in the sanding process is one that seals your floor from scratches, water, and stains for years ahead.
Why Our Camberwell Floor Sanding is the Right Choice for Your Floors?
Sanding requires proper examination and understanding of the particular floor material and its overall condition before any real work can be performed. The Camberwell floor sanding experts have worked on thousands of floors from the standard floorboards to antique parquet and understand the nuanced needs a wood floor has. Whether your flooring is in your home or workplace, we'll sand it to perfection. Your floors will be easy:
To upkeep

: The new finish protects the floors from just about everything and allows them to be cleaned without effort.

On the Eye

: Precise sanding and excellent sealing transform your wooden floors into a thing of beauty.

To Sell

: Invest in your wooden floors and your property value sky-rockets.

To Preserve

: The professional finish ensures the wooden material is preserved and your floors can look brand new for decades.
Experience Highly Skilled Floor Sanding in Camberwell
Years in the field of floor standing in Camberwell have strengthened the performance, and all members of the teams have been BONA certified – the greatest testament to the experience and capabilities. Your floors are in the safest hands with the latest equipment and high-grade organic materials for filling out the gaps and sealing your floor. You return to your property to even floors and no sign of sawdust in the process. Efficiency, quality, and cleanliness. This is what you order with us as your wood floor sanding company.
Ready to Order Your Wood Floor Sanding Service?
Organizing your wood floor sanding service is simple. Dial 020 3404 9697 to get in touch with the office, where you can schedule a viewing from the experts to determine what needs to be done on your property. Whether you want to request additional information on the service, check for special offers and discounts or simply alter the details of an existing appointment, be sure to contact us from Monday to Sunday at a convenient time. Or alternatively, use our chat feature or contact form to get in touch.
We Also Provide Floor Sanding In The Following Areas: