Wood has been used in making floors for centuries. Its class, durability and aesthetic are unrivalled. Unfortunately, even the most durable wood flooring needs to be restored. The expert floor sanding service in Wimbledon SW19 we offer is compatible with every type of wooden floorings. 
Wood Floor Sanding in Wimbledon SW19 – From Repair to Finish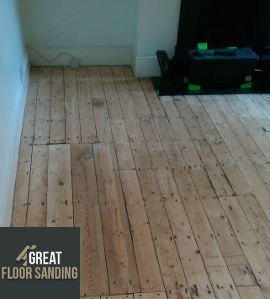 Wimbledon wood floor sanding takes some time. There are several steps required to bring the former glory of your wooden floor. Take a look at them in the following list:
Repair and Restoration:

The beginning of the sanding process that takes care of the floor in terms of damaged or loose wooden boards that need securing.

Gap Filling:

A secondary preparation to ensure the following sanding is successful.

Floor Sanding:

Your floors are sanded with a powerful machine that flattens the floors and leaves behind a smooth wooden surface.

Staining:

Your floor is treated with an organic staining agent to modify the overall colour.

Finish:

This step protects your floors in the long run with a thick coating of lacquer, wax or oil.
What is Wimbledon Floor Sanding Famous With?
You order a service that is suitable in every instance. Whether you have wooden flooring a few years old or an antique hardwood floor, floorboards or parquet, you can count on the teams to strip it from all damage, staining, and imperfections. The Wimbledon floor sanding team have worked in this business for the better part of 15 years and know their way around both residential and commercial floors. You will enjoy:
Increased Lifespan

: Your floors live for decades. That's how well-sealed they are.

Enhanced Aesthetic

: Your floors feel better, but also look amazing to anyone who sees them.

Added Value

: Beautiful wooden floors only add to your property value. It's the best investment for your property.

Simplified Cleaning

: Smooth even surfaces are a dream to clean.
Professional Floor Sanding in Wimbledon is Just a Phone Call Away
What makes us the ideal choice for your floor sanding in Wimbledon is the fact that we value quality above all else, and you'll find this in the craftsmanship. All technicians in the employment are BONA certified and operate with high-grade equipment that delivers impeccable results and absorbs fine dust particles. In the end, you return to immaculate floors and a clean house, office or flat. So save yourself time and effort and trust in the proven excellence.
Expert Consultation!
Request your viewing for wood floor sanding right now! Just give us a call at 020 3404 9697 and tell us what you need us to do. We'll dispatch a team at a convenient time to inspect the property and give you a no-obligation quote 1 to 3 working days after. Feel free to get in touch every day of the week, any time of the day. Whether it's a workday, the weekend or a national holiday, you can always get through. Plus, we have a contact form or our chat facility.
We Also Provide Floor Sanding In The Following Areas: