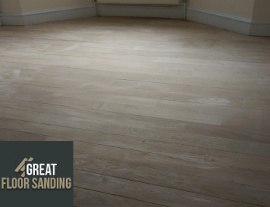 Do you have a stain on your wooden floors you can't remove? A scratch? Creaky Boards, that ruin its beauty? Maybe, it's time to call the professionals for assistance. Choose our floor sanding in Hackney E8 E9 for an immediate and long-lasting effect. Erase the passage of time on your wooden floors with one single call. The service is suitable for every type of wood, be it hard or softwood, and every style of floorboards or parquet. We work with residential and commercial clients.
Your Wood Floors in Hackney E8 E9 Can be Completely Restored
Quality Hackney wood floor sanding offers more than just high-quality sanding. There's the preparation that ensures the sanding is successful, and treatment that preserves the job for years to come. Take a look at the list below to learn for yourself.
Repair and Restoration:

We make floors safe to work with by removing the damaged boards, replacing them with matching ones and securing loose beams.

Filling the Gaps:

We ensure the floor is a uniform surface to promote stability.

Floor Sanding:

The actual sanding strips the old sealing from your wooden floors, and in the process removes imperfections and damage.

Staining:

If you opt for this step, you choose from a variety of organic hues for your floor.

Finish:

We seal the floors with either wax, oil or lacquer for an air and water-tight finish.
Hackney Floor Sanding – A Guide to Your Benefits
Each floor demands an individual approach, because of its uniqueness. The material, age, the traffic it receives, etc. Everything is important when it comes to longevity. The Hackney floor sanding team provides you with a bespoke service that is tailored specifically to your floor's needs in order to end up looking its best. We can send every type of wood flooring because over the years we have restored more than 5000 floors in London. Our services bring along many other perks, some of which are mentioned below.
An increase of Your Value

: Wooden floors are incredibly valuable, so maintaining yours raises the value of your property on the market.

Prolong the Floors' Life

: Precise sanding and sealing can preserve the floor for a whole century.

Improve Your Home's Look

: Nothing beats the beauty of a well-sanded floor.

Clean with Ease

: Once sanded, your floors demand little maintenance time and effort.
Floor Sanding in Hackney Hires Only Experienced Sanders
Cleanliness and precision are the main principles in our floor sanding in Hackney. All working technicians are BONA certified and understand how to treat wood, be it hardwood, softwood, fresh or aged material. At the same time, you return to a room that's clean and tidy. Forget about sawdust – we work with the latest sanding equipment, a technology that performs its tasks with efficiency but also keeps the workspace sterile. You receive excellence in no time!
Your Wood Floor Sanding Service is One Call Away!
We offer a no-obligation on-site consultation of your floor. Please, expect your sanding quotation 1 to 3 working days after the site visit.  Just call 020 3404 9697 now! If you prefer, you can use our contact form or our live chat.
We Also Provide Floor Sanding In The Following Areas: