Planning on renovating your property? Consider installing wood floors! Wood is always a popular choice and lasts for a significant length of time, always giving your property a classic look. Hire the skilled floor fitters in Hammersmith W6 for a professional service that meets all your needs. From the moment you schedule an appointment to the execution of the service, you take the lead and oversee the procedure.
What Will You Gain from Our Wood Floor Installation in Hammersmith W6?
Why do you need our service? Our wood floor installation in Hammersmith offers you precision, skill, but also numerous other benefits:
Exceptional Results: We deliver a product that lasts for years, and thanks to its high level of craftsmanship, manages to raise your property's value.
Customized Floor: Wooden floors come in numerous types and style. From hardwood and engineered to laminate and parquet, the choice is yours.
Premium Materials: Longevity is a primary goal, and for that purpose, we work with only the most durable oak, cherry, ash, maple, pine, and walnut.
How The Wood and Parquet Floor Fitters Approach Wooden Floor Installation?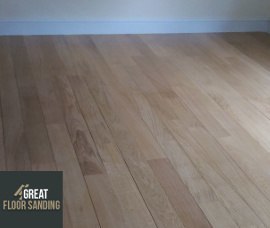 The first step is to have a team of wood and parquet floor fitters sent around to your property to assess the layout and how the project is going to shape up.
In case the floor beneath is not leveled, we can easily perform concrete subfloor leveling to give your wooden floor the proper base.
Before the installation, you can get damp and sound proofing for an improved experience once the floor is installed. Then comes the actual floor installation – either glued down, nailed down or floating. For finishing touches, you can order skirting board and beading installation.
Who Are The Wood Floor Fitters in Hammersmith?
Installing a wooden floor is a job that demands precision, skill and a strong hand. You can relax knowing your team consists of professional London wood floor fitters who have worked this for years on end and know how to approach every property type – residential or public, small or large, open or complex in its layout. We employ the use of only premium materials, trustworthy brands and the most preferred techniques to give you a wooden floor that will last the ages.
Now is the Moment to Book The Floor Layers in Hammersmith
Now that you have decided on installing wooden floors, call 020 3404 9697 to get in touch with the office and schedule your no-obligation on-site consultation. You can contact us every day of the week from Monday to Sunday with the inclusion of bank and national holidays. All of the wood floor layers in Hammersmith are here to help you create a unique service package and accommodate all your needs whether you want more information regarding our services or want to make alterations to an existing appointment.