Give your home or place of business a deserved transformation with quality wooden floor installation that lasts for years afterward. What you get from the floor fitters in Camden NW1 is skill, precision, and experience to lay down every type of floor. You have complete control over the process from the moment you pick up the phone. And with the numerous design options, the end result is going to be exactly what you were after.
Our Wood Floor Installation in Camden NW1 Gives You Stunning Flooring
You can be sure to gain far more with our wood floor installation in Camden than a pretty wooden floor. You can find some of the additional benefits below:
High aesthetic: You have numerous floor types to choose from – hardwood, engineered, laminate and parquet, which has its own gallery of designs.
Longevity: Each floor is created using only the highest quality wood material – oak, cherry, ash, maple, pine and walnut being the most popular.
Higher Value: Wooden floors are known to raise the property value whether you own an office building or residence.
What To Look Forward to With The Wood and Parquet Floor Fitters?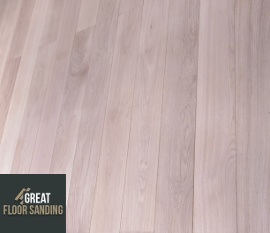 Floor installation demands precision and several steps in order to be successful.
First, we send in a team of experienced wood and parquet floor fitters to perform a no-obligation on-site consultation – to determine the layout.
Second, in case the floor is not even, we perform a careful subfloor levelling for a solid foundation.
Third, we may also do some sound and damp proofing as preparation for the floor installation, if you wish.
Fourth, after the floor installation you have several options to tie the whole space together with skirting board and beading installation or have your door and door frames trimmed a bit.
Meet The Experienced Wood Floor Fitters in Camden!
What you gain from us is a professional a team who understand the intricate nature of having to install a wooden floor. All wood floor fitters under contract with us in London are proven professionals with years of experience and numerous projects under their belt. This ensures you're booking skills honed in the workplace. We operate using only quality materials and the newest techniques that promise a quick service that leaves an immaculate result every single time. It's what your home or office deserves!
Order Work from The Floor Layers in Camden Now!
Communication remains our top priority, so dial 020 3404 9697 whenever you have the opportunity to. You'll find our support staff work around the clock from Monday to Sunday to ensure you get all the attention you need. You can request your no-obligation on-site inspection from the Camden wood floor layers or you can request additional information about our services – we're here to help. Additionally, you have the opportunity to change an already existing appointment, but only if there are more than 24 hours before the appointment.