Your wooden floors are probably the first thing every visitor notices. This is why their appearance is so important. They remain ever-popular, because of the beauty and easy maintenance. However, even the toughest hardwood floor needs refurbishment at some point. Whether you have soft or hardwood floors, we can be of service in the process of their restoration. Trust in our floor sanding in Hampstead NW3  because we have sanded more than 5000 floors of all type in London!
Your Floors Will be Fully Restored with Wood Floor Sanding in Hampstead NW3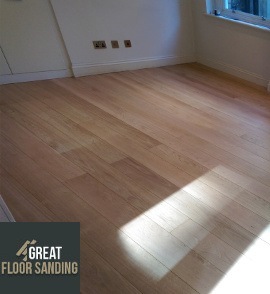 Quality Hampstead wood floor sanding doesn't begin and end with the sanding itself. There's preparation that ensures the sanding is successful, and treatment that preserves the job for years to come. Take a look at the list below to learn for yourself.
Repair and Restoration:

We make floors safe to work with by removing the damaged boards, replacing them with matching ones and securing loose beams.

Gap Filling:

We ensure the floor is a uniform surface to promote stability.

Floor Sanding:

The actual sanding strips the old sealing from your wooden floors, and in the process removes imperfections and damage.

Staining:

 You can choose from a variety of organic hues for your floor.

Finish:

 Either wax, oil or lacquer is used to seal your floor. It's up to you to choose.
Hampstead Floor Sanding – Your Benefits
Each floor demands an individual approach because there are no two floors alike. Multiple factors shape and alter its appearance over the years. Some of them are the material, its age, the traffic it receives, as well as the original finish and of course type of floor. Hampstead floor sanding teams provide you with an outstanding service that is tailored specifically to your floor's needs. Whether you have flooring that's just a few years old that has suffered damage, or aging floorboards, we can sand it to perfection thanks to the BONA professional equipment we use. Our services bring along many other perks, some mentioned below.
Increase the Value of Your Property

: Wooden floors are incredibly valuable, so maintaining yours raises your value on the real estate market.
Longevity: Precise sanding and sealing significantly prolongs the average life of your wooden floors.

Improve Your Home's Look

: Nothing beats the beauty of a well-sanded floor.

Clean with Ease

: Once sanded, your floors demand little maintenance time and effort.
Floor Sanding in Hampstead from Vetted Specialists
The floor sanding service you receive in Hampstead is guaranteed. All teams operate the latest high-quality equipment that delivers precision in a matter of seconds and preserves your property – whether it's your home or office – clean and dust free. Each member of the team has been BONA certified and with more than 15 years in this business behind us, your floors are in safe hands!
Order a Wood Floor Sanding Service Now!
Call us 24/7 at 020 3404 9697 to schedule an on-site viewing, which is set to determine the condition of floors and during which you can freely discuss your wishes. We also have a contact form and chat facility online.